British Legends Car racer James Holman soared from the back of the grid to finish 12th in the latest international Legends Car sim race in Estonia this week (Thursday May 28th).
It was a sensational drive, which saw the Weltch Media car pass half the field in the opening two laps, after starting 25th in a line-up of top real-life Legends Car racers from around the world, competing on a simulated track from their homes.
But overall, it was a disappointing night for the UK's representative, who qualified 13th, but missed the start of the first race because he lost his internet connection from his home in Dublin.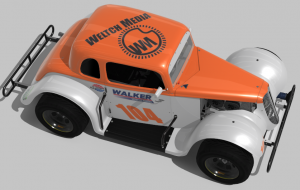 By the time he joined the race, he was more than two laps behind, and could only finish in 25th and last place.
His forceful start in race two took him as high as 11th place, and a sensational battle with Nika Kobosnidze of Georgia, before having to settle for 12th.
James missed the opening round because of computer problems, but finished 10th and 13th at Ahvenisto, Finland, in round two, and then 6th and 8th at Knutstorp, Sweden last week. Next week sees the penultimate round back in Finland at Botniaring.
The races, which take place each Thursday evening, are shown live on Facebook, YouTube, and Motors.tv.
Many racing series have moved online, while most real racing is on hold because of the coronavirus pandemic.
James is also competing in a sim racing GT series and last week took 6th in race 1 at Barcelona. In race 2, he was up to 8th and got taken out, but recovered from last of 42 cars up to 21st. He is currently 6th in the championship.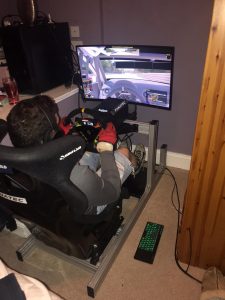 In real-life racing, James competes as part of the Samsport team in the Irish Legends Car Championship, with sponsorship from Walker Vehicle Rental and support from us at Weltch Media.
A former rookie of the year and championship runner-up in the hotly contested UK Legends Car series, he finished runner-up in Ireland in 2016 and was fourth in 2018 and 2019.
Legends Car racing originated on the US oval tracks, and the cars have an American look, being 5/8-scale replicas of classic US models.
Motorsport is one of our specialist areas. See how we could help your race team, promotion or related business.