Our Weltch Media-backed National hot rod racer Mark Shelper struggled to overcome an oversteer problem in his Peugeot 206cc in the latest world championship qualifying series at Aldershot yesterday (Sunday 22 May).

He took the 788 car to 8th place in the first race, but got involved in some contact in the second, which forced him to drop back and out of contention.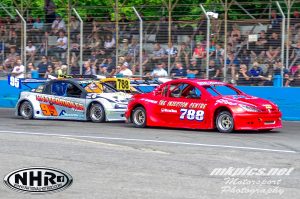 Starting near the back in the final, again he couldn't make much progress through the pack. "The oversteer was a problem all day," he said. "We made changes, but we couldn't get the car where we wanted it unfortunately."
The top scorers in the English series will qualify for the world championship final at Ipswich in July, where they will face the qualifiers from the other countries.
National hot rods are the top level of short track racing in the UK, with sophisticated production car replicas whose engines produce around 240bhp.