Our first fiction film Annalium 8: Sssss has completed its main shoot.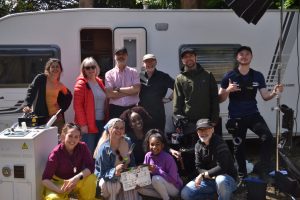 Filming took place in South Wales throughout last week under the guidance of director Andrew Griffin.
We are producing the film in collaboration with Annalium Films from a script by Robert Lancey, telling of the aftermath of a catastrophe which has seemingly killed all animal life. The short film follows a surviving scientist in full hazmat suit who encounters a young girl in a forest – and she appears to be healthy and well…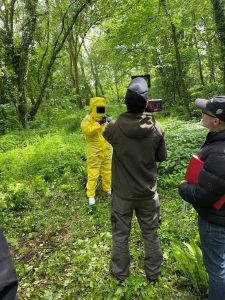 Despite some changeable weather, our lead actors Francesca Louise White and Minaii Baelfire performed superbly, and the crew were delighted with the footage they captured.
Francesca is an award-winning actress who had the main role in our popular comedy promo video With a T, which we produced during the 2020 lockdown. Minaii holds the distinction of being the world's first Black Young Elsa in a stage production of Frozen.
The film now has its own Twitter and Instagram accounts, so please follow these to keep up with developments as it moves into post-production. There will soon be a crowdfunding page too, so fans can get involved.
Weltch Media has helped publicise several films, and Andy Weltch has been an associate producer on a range of projects from the short dramas Mia and Coffee Chains to the horror feature Slasher House II.
Arts and entertainment are among our specialities. If you're involved in this sector, contact us to find out how we could help you.