We're sending our sponsored Torquay United Women player Danni Wyatt all best wishes for her recovery after tests yesterday (Monday 24 October) revealed a patella tendon issue.
Club captain Danni will be out of action for four weeks while she undergoes shockwave therapy. But she was able to joke about it, tweeting there was "no knee'd to be sad".
The news comes after Danni helped her team to victory in an FA Cup qualifying game over Royal Wootton Bassett on Sunday (23 October).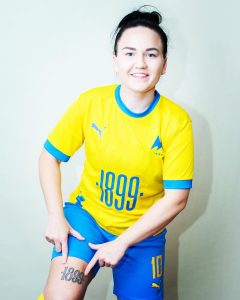 She has been struggling with a knee injury for some time and has not usually been playing a full 90 minutes.
Yesterday Danni tweeted: "4 weeks out. no knee'd to be sad about it, 4 weeks of shockwave therapy i'll be back".