Our first fiction film starts shooting next week (May 16).
We are co-producing Annalium 8: Sssss with Annalium Films from a script by Cardiff writer Robert Lancey, which has been well received at international competitions.
Set in a time when a catastrophe has seemingly killed all animal life, the film follows a surviving scientist in full hazmat suit who encounters a young girl in a forest – and she appears to be healthy and well…
Directed by Andrew Griffin and starring Francesca Louise White, the film also features Minaii Baelfire, who has the distinction of being the first Black Young Elsa in a stage production of Frozen.
Shooting is due to take place throughout next week on locations in South Wales.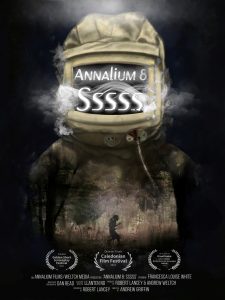 After that, we plan a crowdfunding campaign to help finance the post-production work, and to enable film fans to get involved.
The film now has a Twitter account which will post regular updates.
Weltch Media has helped publicise several films, and Andy Weltch has been an associate producer on a range of projects from the short dramas Mia and Coffee Chains to the horror feature Slasher House II.
Arts and entertainment are among our specialities. If you're involved in this sector, contact us to find out how we could help you.