Our national hot rod racer Mark Shelper has issued an appeal for sponsorship to help him in his bid to qualify for next year's world championship.
In return, sponsors can have their logos on the car, mentions in media coverage, and potentially the car on display at events.
"Costs have risen and we're having to cut back on the number of races we attend," Mark explained. "So a boost in sponsorship would be really helpful right now.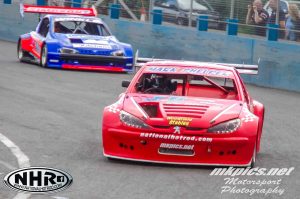 "The main expenses are tyres which are around £180 each and are meant to last four meetings, but we sometimes have to make them last longer because the budget won't stretch.
"Our racing is so close, you can't avoid damaged panels, so that's another cost, along with general upkeep towards things like brakes and suspension."
He added: "We'd be grateful for any sponsorship, big or small – it all helps."
Bristol-based Team Shelper Racing operates on a much smaller budget than many rivals in the elite National Hot Rod series, and their car – a Peugeot 206cc – is one of the oldest on the grid, dating from 2008.
But, despite these limitations, Mark made headlines in 2022 when he became the only driver from the South West to qualify for the world final, and this year missed out by one place in the English points championship.
He has made an excellent start to the qualifying campaign for 2024, and lies seventh in the English series.
The team is currently sponsored by the Injection Centre, JB Racing, Elite Racing Transmission and Woodfield Stables.Weltch Media provides a media service with online coverage and further publicity.

If you're interested in finding out more about sponsorship opportunities, email us at info@weltchmedia.com or Mark at mark.shellper@sky.com
National hot rods are the top level of short track racing in the UK, with sophisticated lightweight production car replicas producing around 240bhp.
Photos: Mark's Peugeot (788) in action at Aldershot by Martin Kingston