Changing the axle brought a change of luck for our national hot rod driver Mark Shelper at Aldershot Raceway in Hampshire yesterday (Sunday 23 July).
In the opening qualifying round for the 2024 world championship,  Mark's Peugeot 206cc-bodied car finished 5th in both heats and 8th in the final.
"It was a decent day – which makes a change!" Mark told us.  "After changing the axle for this one, the car is completely different.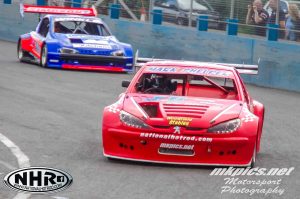 "We got 5th from 12th on the grid in heat 1 and another 5th in heat 2. We started outside second row in final got to the inside about 6th place, but after some contact on the last lap lost a couple of places and limped the damaged car over the line in 8th."
The results mark a change of fortune for the team, after narrowly failing to qualify for the 2023 world final at Ipswich and a disappointing performance in the support races.
The Weltch Media logo has been on Mark's Peugeot 206cc since the start of last season, continuing our long-standing involvement in motorsport. We've previously supported Ben Power in the UK Legends Car Championship and James Holman in the Irish Championship. We've also backed James in online iRacing events, and joined Mendips Raceway to present the Weltch Media West of England Hot Rod Championship.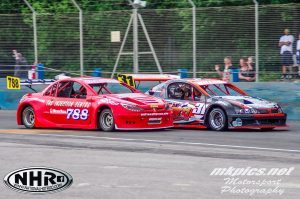 Bristol-based Team Shelper Racing is sponsored by the Injection Centre, JB Racing, Elite Racing Transmission and Woodfield Stables.
National hot rods are the top level of short track racing in the UK, with sophisticated lightweight production car replicas producing around 240bhp.
Photos: Mark's Peugeot (788) in action at Aldershot by Martin Kingston