Our sponsored player, club captain Danni Wyatt, came on for the last 15 minutes of Torquay United Women's first FA National League game yesterday (Sunday 20 August) at Portishead.
But it wasn't enough to avoid a 4-2 defeat, despite taking an early lead.
"We took a very early lead and started the game really well," said Danni. "But some costly mistakes meant we went home with a 4-2 defeat. Tracey Cross scored both goals for us with some very neat finishes and some good football played but it wasn't enough on the day.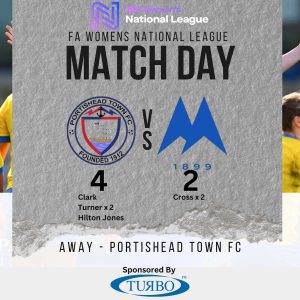 "We can see what we need to work on and will take that into training with us this week. All credit to Portishead, who put away their chances, and we wish them the best of luck for the season."
Danni also thanked Portishead for inviting the Torquay team to watch the FIFA World Cup final before kick-off.
"I'm really gutted about the England result but immensely proud of the women for what they achieved," she said. "Yet again they've inspired a nation and young girls all over the country. You can't ask for more than that from them."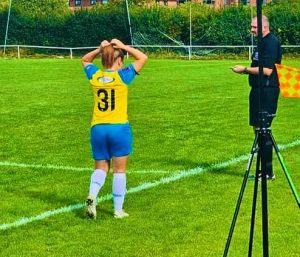 This is Torquay's first season in the National League after finishing top of the South West Women's League Premier Division last season to gain promotion to the FA Women's National League Division 1 (South West) – the fourth tier of the women's game in England.
We first sponsored Danni in the 2017/18 campaign, when she helped Torquay to third place in the league and to the final of the Devon Cup and won the goal of the season award.
In 2022, she helped Torquay to a sensational victory in the Devon FA Cup Final and was named club player of the season.
And in 2020, she was among our friends who featured in the popular comedy promo video With a T.
Sport is one of our specialist areas. If you're involved in sport, business, or education and looking for PR or communications support, see what we offer.