In a game described as a "rollercoaster", Torquay United Women and our sponsored player, Danni Wyatt, fell to a 5-2 defeat in their opening home match in their first National League season.
Hosting Moneyfields at Brixham, Torquay – with club captain Danni in the starting XI, went 2-0 up in the first six minutes.
Danni got a touch on a corner by Ocean Latto to set up Emma Hollingsworth who slotted the ball into the bottom corner. A minute later, Emma headed home the second – connecting with a corner by Ella Stephens.
But Moneyfields were 4-2 by half time, and added another in the second half, when Danni was substituted.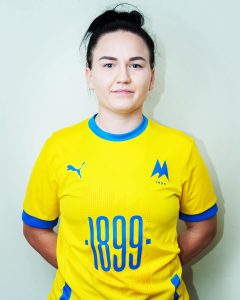 "It was a rollercoaster," said Danni. "We started really well and went 2-0 up, but some unfortunate decisions went against us and Moneyfields punished us and the later stages of the first half."
This is Torquay's first season in the National League after finishing top of the South West Women's League Premier Division last season to gain promotion to the FA Women's National League Division 1 (South West) – the fourth tier of the women's game in England.
We first sponsored Danni in the 2017/18 campaign, when she helped Torquay to third place in the league and to the final of the Devon Cup and won the goal of the season award.
In 2022, she helped Torquay to a sensational victory in the Devon FA Cup Final and was named club player of the season.
And in 2020, she was among our friends who featured in the popular comedy promo video With a T.
Sport is one of our specialist areas. If you're involved in sport, business, or education and looking for PR or communications support, see what we offer.