We are excited to share the news that Weltch Media is among the winners in the Cardiff and South Wales Prestige Awards 2020, as Public Relations Company of the Year.
The judges were especially impressed with the enthusiastic feedback from our clients, as well as our use of digital media, including our very active social media channels.
With our small, agile, and flexible team, we have been home-based for several years and have therefore been able to continue delivering excellent results for clients throughout the 2020 coronavirus lockdown, thanks to our experienced experts working remotely in South Wales and around the UK.
Although much of our work has traditionally been in Wales and South West England, we have extended our reach over the past year to win major writing and editing projects for organisations in London.
For several years, we have also had overseas clients much further afield, ranging from a multi-national corporation in the Middle East to film producers and small businesses in the USA, and a fashion brand in Namibia. Our name also can be seen on the race tracks of Ireland and we have a presence on rugby and soccer fields in England.
There is due to be a presentation event in the city, if and when it can be arranged, given the ongoing coronavirus crisis.
For the last 16 years, Corporate Live Wire has been awarding national and international awards, and in 2019 it introduced regional awards to recognise smaller, independent businesses. These regional awards include cities, regions and states in Europe, North America, and the Middle East, including London, Madrid, California, Manchester, Edinburgh, and Stockholm.
The Cardiff and South Wales winners also include our companion hyperlocal website Rhiwbina Info, which was recently named Information Platform of the Year.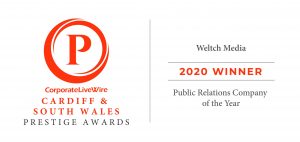 "This came as quite a shock," admitted our senior consultant Andrew Weltch. "We are a very small outfit with some quite niche specialities, like higher education and motorsport, so we wouldn't normally have expected to be in the running for this.
"I think our flexibility and adaptability, especially in these very difficult times, counted in our favour. Although some projects have been postponed or cancelled, we've been able to win others. This award is certainly a very welcome surprise!"
See how our award-winning services could work for you here.