Our hot rod racer Mark Shelper is now likely to miss the last meeting of the year after his Peugeot suffered major damage at Hednesford Raceway yesterday (Sunday 22 October).
"We went pretty well from the blue grade again [grids are handicapped based on points scored, so the better performing drivers start nearer the back] and were happy with the speed in the car," he said.
"It was pretty rough going again but we scored a few points from the heats.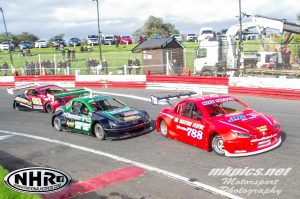 "Not good in the final, though. Lap one the track was slightly damp from some rain in the air and we must've run a little wide into the rubbish and oil left by the bangers and lost all braking and steering. I was a complete passenger straight into the wall. Luckily, I managed to slow the speed a little. But it's done a lot of damage – ripped all the front suspension off, shock absorber, two wheels and all front and left side panels.
"It's a lot to fix, so that's probably the end of the year for us now, with only one weekend till the final round of the year at Ipswich."
The Weltch Media logo has been on Mark's Peugeot 206cc since the start of last season, continuing our long-standing involvement in motorsport. We've previously supported Ben Power in the UK Legends Car Championship and James Holman in the Irish Championship. We've also backed James in online iRacing events, and joined Mendips Raceway to present the Weltch Media West of England Hot Rod Championship.
Bristol-based Mark is sponsored by the Injection Centre, JB Racing, Elite Racing Transmission and Woodfield Stables.
Sponsorship opportunities are still available for the rest of the season, which runs until the world final in July 2024.
National hot rods are the top level of short track racing in the UK, with sophisticated lightweight production car replicas producing around 240bhp.
Photos: Mark's Peugeot (788) in action at Hednesford by Martin Kingston