Weltch Media will again be teaming up with national hot rod racer Mark Shelper for the 2023 season.
Bristol-based Mark finished 8th and 9th in his heats at the opening round at Aldershot yesterday (Sunday 12 March) as he continues his push to reach July's world final.
"Unfortunately, we just caught a tyre marker towards the end of the first heat," he said. "I thought something was bent but couldn't find anything in the time we had between our heats so adjusted the tracking.
"The car wasn't as good in heat 2 but was 5th at a restart, but we got a big shove into the first bend and lost four places stuck on outside.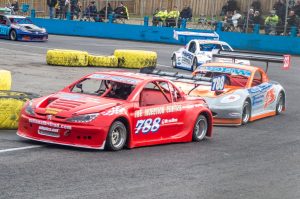 "Considering the lost time with dad [crew chief Alan Shelper, who has been ill] a couple of weeks ago, it was pretty good from blue [second handicapped] grade."

Team Shelper Racing is sponsored by the Injection Centre, JB Racing, Elite Racing Transmission and Woodfield Stables.
The Weltch Media logo has been on Mark's Peugeot 206cc since the start of last season, continuing our long-standing involvement in motorsport. In the past we have supported Ben Power in the UK Legends Car Championship and James Holman in the Irish Championship. We've also backed James in several online iRacing events, and in 2018 we teamed up with Mendips Raceway to present the Weltch Media West of England Hot Rod Championship.
Mark made headlines last season by being the only driver from the South West to qualify for the world championship final.
National hot rods are the top level of short track racing in the UK, with sophisticated lightweight production car replicas whose engines produce around 240bhp.
Photos: Mark's Peugeot (788) in action at Aldershot by Martin Kingston