Our Legends Car racer James Holman will have to wait a while longer to get back on the track, after his spectacular victory last month – tighter restrictions from the Irish Government have forced this weekend's (August 22-23) event to be cancelled.
The Irish Legends Car Championship is now due to resume on September 12-13 at Mondello Park, but it will depend on whether the restrictions are eased.
"Obviously I'm disappointed that the meeting this weekend has been postponed," said James. "I was looking forward to taking Weltch Media back into victory lane! But safety has to come first in these strange times we're living in, hopefully we'll be back on track soon.
"The government here has announced new measures until September the 13th which puts our next meeting at risk too."
James scored a spectacular race win in the rain at Mondello Park, as the Irish Championship finally got under way behind closed doors in July.
The Englishman's first victory for two years came during a very mixed meeting (July 25-26), which also included a fifth place, but no points from the other four races.
Like motor racing series around the world, the Irish Legends Car Championship was on-hold because of the coronavirus pandemic.
While real racing was ruled out, James represented the UK in an international Legends Car sim racing series on simulated tracks in Scandinavia and the Baltic states, run by the Baltic Touring Car Championship.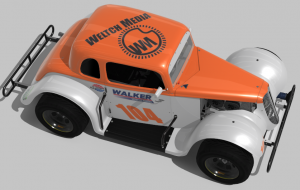 The only British driver in the series, featuring entries from around the world, James finished seventh overall in a computerised car carrying the Weltch Media logo.
In real-life racing, James competes as part of the Samsport team in the Irish Legends Car Championship, with sponsorship from Walker Vehicle Rental and support from us at Weltch Media. He also has a tie-up with leading Swedish Legends Car team, Nyman Racing.
A former rookie of the year and championship runner-up in the hotly contested UK Legends Car series, he finished runner-up in Ireland in 2016 and was fourth in 2018 and 2019.
Legends Car racing originated on the US oval tracks, and the cars have an American look, being 5/8-scale replicas of classic US models.
Action photo from Mondello Park by Barry Cregg. 
Motorsport is one of our specialist areas. See how we could help your race team, promotion or related business.