Our sponsored Torquay United Women FC player, Laura Shaw, is among those working through the coronavirus crisis as a key worker – in the role of a carer in the mental health sector.
Laura, whose season with Torquay in the South West Women's Premier League was cut short by the crisis, has been working as a carer for several years.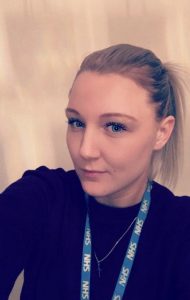 She is now working at a home in Devon for young people with mental health issues – a challenging role, made all the more difficult during the crisis.
"It's very hard work, but also very worthwhile," said Laura. "I'm exhausted at the end of a shift, but it's good to know that keyworkers are appreciated."
Laura, who is 28, is a versatile, mainly left-sided, defender and midfielder, who produced some excellent performances to help save Torquay from relegation in 2018-19.
Her 2019-20 season was affected by health issues before it was ended prematurely by the pandemic.
She originally played for teams in Manchester and Burnley, and in her late teens played for Salford as a left midfielder.
When she moved to Devon, she played for Paignton College and had trials for England Colleges. She also played for Liverton, Stoke Gabriel, Alphington, and Charlestown in Cornwall before joining Torquay last season.
Laura was diagnosed with ME (myalgic encephalomyelitis), sometimes known as chronic fatigue syndrome, last year, prompting her to speak out to encourage people facing similar challenges.
"For everyone who has a similar diagnosis, I know that fight is difficult, and you may want to just give up," she told us. "But heart and passion is not something we give up on easily and we will get through it. It just takes that bit of extra time to get us there!
"My message to people in similar circumstances is: You are not alone. Support is near. Never give up!"
As we reported recently, our co-sponsored rugby league player, Kelsey Gentles of Castleford Tigers, is also a key worker during the crisis – working in food retail at a Co-op store in Leeds.
Last summer, Weltch Media became the official hydration partner of Devon Sharks rugby league team. For 2020, in motor sport, we have also renewed our partnership with James Holman in the Irish Legends Car Championship.
Sport is one of our specialist areas. See how we could help you, your team, or organisation.