Our hot rod driver Mark Shelper and his team will be stripping down their Peugeot-bodied race car this week as they try to find out why it was off-form at Aldershot yesterday (Sunday 30 April).
Bristol-based Mark was disqualified in heat 1 after being judged to have caused an accident. "The car wasn't very good in heat 2," said Mark. "So, we made some changes in the final, but it was still rubbish, so we'll have to strip it down and see if we can find anything wrong.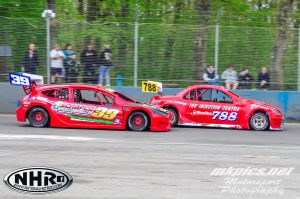 "It seems like a completely different car from the Skegness meeting but nothing's really changed. A very frustrating day!"
Mark made headlines in 2022 by being the only driver from the South West to qualify for the world championship final. He is hoping to repeat the feat this year by finishing in the top 16 in the English points table.
National hot rods are the top level of short track racing in the UK, with sophisticated lightweight production car replicas producing around 240bhp.
Photos: Mark's Peugeot (788) in action at Aldershot yesterday by Martin Kingston