Our hot rod racer Mark Shelper boosted his hopes of qualifying for July's world championship final with a successful race meeting at Skegness Raceway last night (Friday 7 April). 
Bristol-based Mark took his Peugeot-bodied car to third and fifth in the heats and fifth place in the final.
But it could have been a different story, if it hadn't been for vital pre-race help from the pit crew of BriSCA Formula 1 stock car racer Joshua Smith.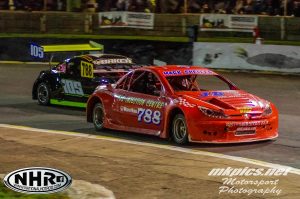 "We had a bad start in practice," Mark explained. "The arm on the rear axle decided to bend – it must've been weak because there was no contact with anything. We had to remove it and get it straightened and welded up by Joshua Smith's team, so thanks to them.
"After that it was a good night: in the first we race got some damage to the front due to a half spin in front, but finished 3rd. Heat 2 was ok – glad to finish 5th.
"In the final, we got a fairly good start from outside on the front row, but got stuck on the outside, then all of a sudden got smashed completely sideways. Somehow, I managed to gather it up and get back in to 3rd. I dropped a couple of places by the end, but really happy with 5th."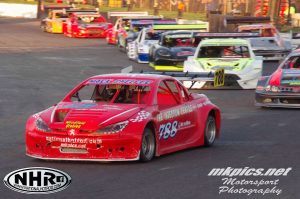 The Weltch Media logo has been on Mark's Peugeot 206cc since the start of last season, continuing our long-standing involvement in motorsport. In the past we have supported Ben Power in the UK Legends Car Championship and James Holman in the Irish Championship. We've also backed James in several online iRacing events, and in 2018 we teamed up with Mendips Raceway to present the Weltch Media West of England Hot Rod Championship.
Team Shelper Racing is sponsored by the Injection Centre, JB Racing, Elite Racing Transmission and Woodfield Stables.
Mark made headlines in 2022 by being the only driver from the South West to qualify for the world championship final. He is hoping to repeat the feat this year by finishing in the top 16 in the English points table.
National hot rods are the top level of short track racing in the UK, with sophisticated lightweight production car replicas producing around 240bhp.
Photos: Mark's Peugeot (788) in action at Skegness by Martin Kingston