Changeable, often wet, weather and wrong tyre choice meant it was a disappointing day for our hot rod racer Mark Shelper, up in the hills at High Edge Raceway, Buxton yesterday (Sunday 23 October).
"In heat 1, the track looked to be drying out," he told us. "So we put two slicks [smooth, dry-weather tyres] on the outside. The car was terrible for the first half of the race but by the time the slicks got some heat, I was last but did catch back up towards the end.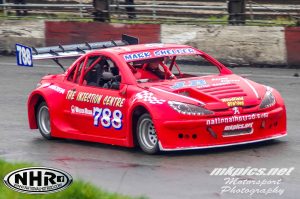 "For heat 2 we went with wets [treaded wet-weather tyres] all round and the car was brilliant – we got up to finish 7th, unfortunately beaten across the line by the world champ, Rob McDonald. In the final we went full slicks, but it didn't matter as someone near the front was spun out and as everyone went to squeeze past I got clipped on the rear and it pulled the tyre off the wheel rim."
So, a few more world championship points to Bristol-based Mark's total as he bids to be among the English qualifiers for the 2023 world final. And a few more pounds for charity.
Weltch Media is sponsoring Mark £1 towards his Big Moose mental-health appeal for every qualifying point he scores this year. If you would like to contribute or spread the word, here is the link. In August, DAS UK Group generously donated £150 to the appeal.
The Weltch Media logo has been on Mark's Peugeot 206cc since the start of this season, continuing our long-standing involvement in motorsport. In the past we have supported Ben Power in the UK Legends Car Championship and James Holman in the Irish Championship. We've also backed James in several online iRacing events, and in 2018 we teamed up with Mendips Raceway to present the Weltch Media West of England Hot Rod Championship.
National hot rods are the top level of short track racing in the UK, with sophisticated lightweight production car replicas whose engines produce around 240bhp.
Photo: Mark (788) in action at Buxton yesterday – pics by Martin Kingston.