It was a disappointing evening for our national hot rod racer Mark Shelper at Ipswich last night (Saturday 13 May).
"It was awful," Mark said. "We got smashed up the back in heat one which put the bumper onto the tyre and eventually burst it.
"In heat 2, after bodging the bumper, knowing it was weak, I didn't take a risk and kept on the outside line but got hit up the back again, which pushed the bumper back on the tyre so I pulled off. We started last in the final and finished about 15th".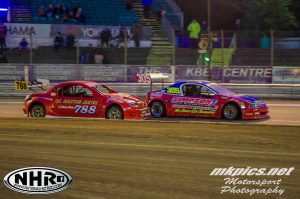 The results are a setback for Mark and the Bristol-based Shelper Racing team as they bid to qualify for the world championship final in July. Before last night's meeting, Mark was 16th in the English series – the top 16 qualify.
The Weltch Media logo has been on Mark's Peugeot 206cc since the start of last season, continuing our long-standing involvement in motorsport. In the past we have supported Ben Power in the UK Legends Car Championship and James Holman in the Irish Championship. We've also backed James in several online iRacing events, and in 2018 we teamed up with Mendips Raceway to present the Weltch Media West of England Hot Rod Championship.
Team Shelper Racing is sponsored by the Injection Centre, JB Racing, Elite Racing Transmission and Woodfield Stables.
Mark made headlines in 2022 by being the only driver from the South West to qualify for the world championship final.
National hot rods are the top level of short track racing in the UK, with sophisticated lightweight production car replicas producing around 240bhp.
Photos: Mark's Peugeot (788) in action at Ipswich yesterday by Martin Kingston