Our hot rod racer Mark Shelper will be in action at this weekend's world championship meeting after all – by taking the option to compete in the support races.
Mark narrowly missed out on a place in the big race when he finished 17th in the English championship, just outside the top 16 qualifying places.
This week he was put on standby for the world final, after one of the English qualifiers looked likely to drop out. But they finally confirmed their place, so Mark was stood down.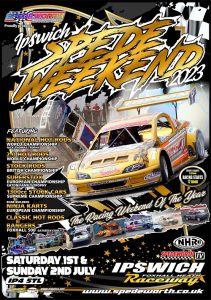 But with the car race-ready, the team decided to enter the support races and make the trip from Bristol to Ipswich for the weekend.
Mark made headlines last year by being the only driver from the South West to qualify for the world championship final.
National hot rods are the top level of short track racing in the UK, with sophisticated lightweight production car replicas producing around 240bhp.
Photo: Mark's Peugeot (788) in action by Martin Kingston